As attractive as they look like in a pot, aloe vera plants have been hailed as a natural ingredient with many positive skin benefits for thousands of years. Aloe vera leaves are full of gel-like texture that are rich in vitamins, minerals, antioxidants, and fatty acids. Aloe Vera also contains enzymes that repair dead skin cells, while moisturizing the skin. It is rich in vitamins C and E which are nutrients that improve the skin's elasticity, for a firmer and youthful look. Back in 2018, the rise of aloe vera gel tubs have taken over the Philippine beauty community.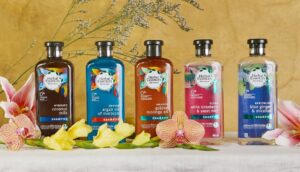 Aloe vera's ability to soothe and provide hydration to the skin, boosted its popularity in the ever-humid country. And now aloe vera is proving to be an effective ingredient not only for the skin care world, but also the hair care industry.Experience Plant Powered Showers with the Benefits of Aloe Vera In its raw form, aloe vera can be used as a mild cleansing agent that gets rid of dirt and product build-up, while leaving hair smooth and with more volume. But if you're not into rubbing plant leaves on your hair, you can also experience #PlantPowerInEveryShower with Herbal Essences bio:renew blend shampoos that contain real aloe vera, kelp, and histidine.
It hydrates each strand to provide frizz control, adds shine, and nourishes dry hair — making hair soft, manageable, and smelling great. Herbal Essences bio:renew shampoos are crafted with an amino acid called histidine, which acts as superfood for the hair trapping and neutralizing the elements that can cause damage in the hair — such as pollution, sun exposure, and even shower water.
With the power of aloe vera, and other plant based ingredients, Herbal Essences bio:renew shampoos are pH-balanced and free of parabens, silicone, and colorants which make it color-safe to use for color-treated hair to bring out it's natural beauty.
Clean Beauty Transparency in Every Bottle Transparency and sustainability are at the core of Herbal Essences bio:renew. As a catalyst for clean beauty, Herbal Essences continues with its mission to provide safe and non-toxic hair care options. And with the continued commitment to ingredient transparency in every bottle, all the high-quality botanicals and REAL plant extracts used are harvested sustainably and responsibly through various partners from all over the world.
So, when they put a plant on our bottle label, it means it's truly in there. Plus, all other plant and mineral ingredients undergo limited processing, which ensures a minimal blow on the carbon footprint. It's never too late to join the clean beauty community this holiday season. Treat your scalp and hair with the best of nature and science in a bottle.
Shop the Herbal Essences bio:renew range through Lazada or Shopee and experience #PlantPowerInEveryShower.