Over a year and a half has passed since the pandemic started, and Filipinos have been inseparable with face masks since then. Truly a health necessity of the highest, most urgent kind, face masks have become a part of our daily essentials.
Along with the importance of wearing face masks comes the encouragement to maintain an active lifestyle during the pandemic, as it is necessary to boost immunity. But it seems like wearing face masks while carrying out daily exercise is proving to be a burden for many.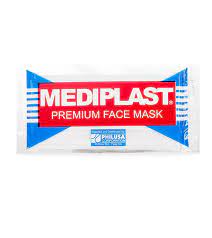 Many of gym goers, sports enthusiasts and fitness buffs who have carried out with their routine in the pandemic claim that wearing masks during exercise is a struggle to do. Majority of the existing masks in the market are not comfortable to use, aren't breathable enough for strenuous or rapid activity, and not suitable for people who work out.
A breakthrough product from Philusa Corporation, MEDIPLAST introduces a new mask in the market that answers the struggle of pandemic-era individuals who want to stay active while staying protected. The MEDIPLAST Copper Mask, is a cloth mask made with copper and its alloys (e.g., brass & bonze)—breathable material that ensures comfort when worn. Available in 3 sizes—small, medium, and large—the MEDIPLAST Copper Mask is a versatile mask that fits perfectly to any face shape and size. With its custom fit and ensured breathability, one can comfortably work out while being protected.
Truly a mask that one can easily grab and go as they go for a socially-distanced run or a safe session at the gym, the MEDIPLAST Copper Mask is washable and can be used up to 30 times, with 90% excellent performance even after 30 washes—making it a sustainable option among the plethora of mask choices in the market.
Mask acne or maskne is also a cause for concern from individuals who profusely sweat inside their masks. Aside from its washability, this mask is highly protective against bacteria, with its 99.9% antibacterial property, as well as antifungal and antiviral properties ensured by its copper and alloy material, backed up by quality test results from reputable and authorized testing centers.
Retailed at Php 259.00 SRP, the MEDIPLAST Copper Mask also comes in 5 different colors: Black, White, Pink, Yellow, and Blue Mint, an easy pick for people who consider their mask a style accessory apart from a protection must-have. The MEDIPLAST Copper Mask is available in Mercury Drug Stores nationwide, as well as online via the Philusa Flagship Store in Lazmall (LAZADA) and Shopeemall (Shopee). To ensure safety and authenticity, make sure to buy from the authorized and verified stores in both LAZADA and Shopee.
MEDIPLAST Copper Masks aims to provide a comfortable alternative to masks that burden individuals who want to keep up their optimum health during the pandemic. A mask's breathability, comfort on the skin and face, and antibacterial properties are all important, for they ensure protection for its wearer and encourage users to maintain and active and healthy lifestyle at a time it is needed the most.