Your Next Poblacion Hangout For Chicken And Beer!
Here's Chi Mac a Korean Restaurant that offers a variety of foods and drinks that will satisfy your taste!
CHIMAC Restaurant takes you on a delicious experience with both our pub-fare and traditional Korean cuisine.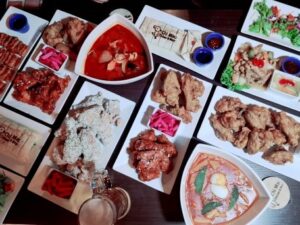 Feast on the Spicy Soft Tofu Stew, the Chicken Combo #01, and the Tteok-Bok-Ki!
A place to have a good time after work, a restaurant where you can play with your friends with Dart Board!
Here's their menu that is very affordable at the same time delicious!
Address: 

37, 1209 Polaris, Makati, 1209 Metro Manila

Main Menu

Sweet and Spicy Chicken

Serving:

Whole (14pcs) 680.00

Side Menu

Stir-Fried Rice Cake

290.00

Stir-Fried Spicy Pork

350.00

Muktea

Dried pollack

550.00

Signature Menu

Stir-Fried Rice Cake

290.00

Jjamppongtang

350.00

Muktea

Dried pollack

550.00

New Menu

Dried Filefish Fillet & Peanut

380.00

Drink & Beverage

San Miguel Pilsen/Light/Apple

70.00

Draft Beer