The First and Only Milk for Obese Children is here!
It is always a joyful sight to see chubby kids with their cute smiles and feel their very comforting
hugs. We always hear the phrases
"ang cute naman niya, ang taba,"
or "Maganda yan, mataba,paglaki naman niya, papayat siya." It is a common scenario among Filipino households especially talking about kids who are overweight or obese. And as delightful as they may be, their health must be given close attention.
The World Health Organization states that in the Philippines, three out of 10 kids here are either overweight or obese. In the last 15 years, there has been a 300% increase in adolescent obesity. Furthermore, overweight and obesity prevalence continued to increase from 5.8% in 2003 to 11.7% in 2018.
Evidence suggests that overweight and obese children are likely to stay obese into adulthood and more likely to develop non-communicable diseases (NCDs) like diabetes and cardiovascular diseases at a younger age. WHO further explains that NCDs are now the leading killers in the Philippines, comprising more than 50% of all deaths each year.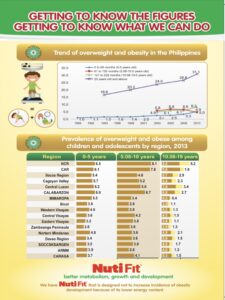 Parents indeed carry a critical role on their children's health. And aside from proper medical consultation and diagnosis, we now have a milk solution that help prevent obesity.
Bandwell Pharmaceuticals Inc. introduces the first and only growing up milk recommended for obese and overweight children—Nuti Fit Gold. It is a powdered milk drink for children four years and above.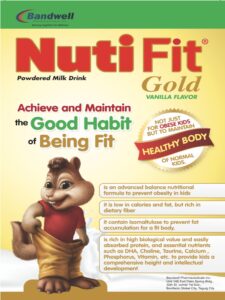 Nuti Fit Gold has low calories at 108kcal, low fat and low sugar using Isomaltulose which is low in glycemic index. It is rich in vitamins and minerals and comes in yummy vanilla flavor kids will love.
"We are excited to introduce Nuti Fit Gold. This product addresses the need of milk solution for obese and overweight children. We are very proud of this product and we look forward to helping Filipino children be healthy," Jun T. Cabais, President and General Manager of Bandwell Pharmaceuticals Inc. said.
Nuti Fit Gold is now available in Mercury Drug stores nationwide and online at Shopee and Lazada