PHILIPPINES, 11, DECEMBER 2020 – Catch Smile Train Global Ambassador, Catriona Gray as she shares her experience with Smile Train Colombia.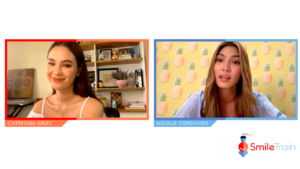 Globally, 540 babies are born with a cleft every day. Smile Train is committed to providing access to proper cleft care treatment and financial assistance even during the pandemic. In addition to life-changing surgery, Smile Train's local medical partners provide essential care, such as speech therapy, emotional support, nutrition services, and orthodontic care, to ensure that children have the opportunity to lead full and productive lives.
As a Global Ambassador, Catriona continues to use her platform to raise awareness for children with cleft lip and palate. Her work included visiting Smile Train's programs in the Philippines and in Brazil to see firsthand all of the incredible work done by the organization locally. In addition, she has attended several virtual speech sessions with cleft patients, launched a Public Service Announcement (PSA) for finding patients and is currently the face of the beepTM card awareness campaign.
For more information about Smile Train's global efforts and to donate, please visit smiletrain.org. To learn more about Smile Train's local programs in the Philippines, please visit smiletrain.ph, follow Smile Train Philippines on Twitter and Instagram @SmileTrainPh, and like us on Facebook at @SmileTrainPhilippines.