Who doesn't want flavorful chicken? We all love everything from chicken legs, thighs the best part is the Chicken Wings!
Here's Mando's wingshack inside the Arkipelago Bagtikan st. Antonio Village Makati city.
Had an enjoyable time eating in @mandoswingshack from nachos, wings and ribs.
Perfect balance of heat, sweetness, spicynes.
Guys it was my first time to try this and I'll be going back here soon. Like no joke.
Im living around the city of makati this is a good place to chill and celebrate with your friends and family.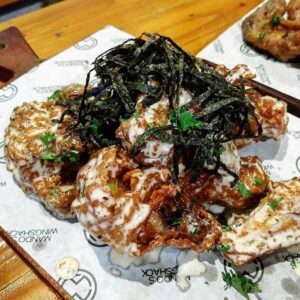 Ambience and location — air-conditioned restaurant and the location is okay, can easily find in Lilac Street (In front of Mercury Drug)
Selections and food — More chicken flavours to choose from. My personal favourite are Garlic Parmesan.
Value for money — super affordable!
Pros:
-cheap
-short wait times
-can accommodate groups
-staff is friendly
-more chicken flavor selections
-great selection of food menu
-air conditioned
Cons:
– parking space is available but limited
– space inside the air-condition room maximum of 20 persons.
They have this proudly made signatured #mandoswingshack sauce that made help to the local farmers in Baguio and Cotabato.
Visit their Social media pages :
Facebook and Instagram:  Mando's Wing Shack
Visit their two branches in the city