On March 20, Head & Shoulders Philippines announced their upcoming virtual hangout, #HeadsTogether, where fans can enjoy a fun-filled night with Alden Richards. But the brand is only getting started with their surprises.
Nico Bolzico fans — Head & Shoulders has some good news for you! Along with Alden and Robi, you'll also get the chance to spend a night filled with trivia, games, and laughter with Nico at the Head & Shoulders #HeadsTogether Virtual Hangout on April 11, 2021 at 5 PM.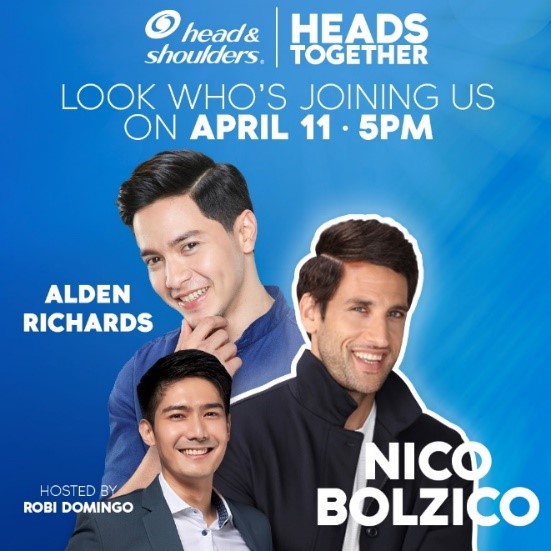 Get a chance to ask Alden your burning questions, laugh out loud with Robi, and compete in exciting games with the dashing Nico. Head & Shoulders is bringing you this and so much more. Plus, it's clinically proven to give you a 100% dandruff and itch-free scalp so you can be your most confident self when you have your #HeadsTogether moment with your idol.
The #HeadsTogether virtual hangout is completely free to attend through the Head & Shoulders official Facebook page. Want to level up your #HeadsTogether experience? VIP ticket holders will be able to interact with Alden, Robi, and Nico in an exclusive Zoom Room pre-show and after the livestreamed program.
Here's how you can get a chance to be a VIP ticket holder.
Visit any of Head & Shoulders' official Facebook, Twitter, and Instagram pages and scan the #HeadsTogether QR code. Fill-up and submit the form from March 31 to April 7, 2021 for a chance be one of the randomly selected VIP ticket winners.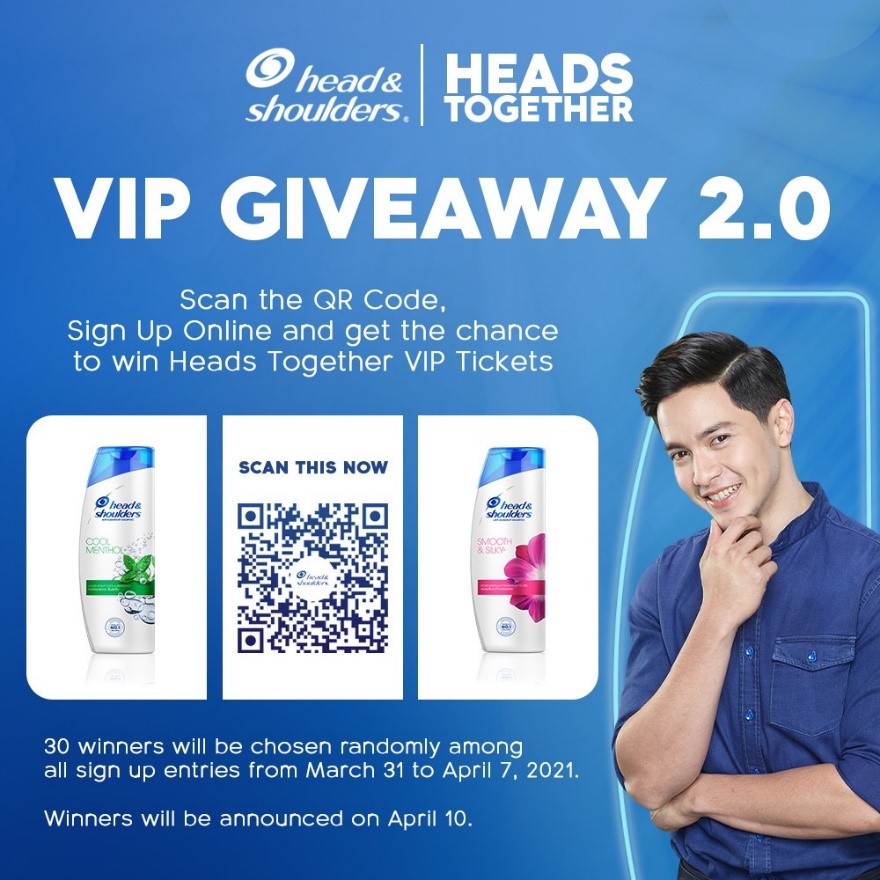 VIP tickets for this giveaway are limited, so hurry! You don't want to miss your chance to meet Alden, Robi, and Nico.
Follow our official H&S social pages and stay tuned for the list of the official retail partners where you can win more VIP tickets.
It's a date on April 11! Celebrate an itchuation-free #HeadsTogether moment with your idols when you use Head & Shoulders, which fights and protects scalp against scalp germs that cause dandruff.
What are you waiting for? Checkout Head & Shoulders products now via Lazada or Shopee.