Introducing the new Johnson's Milk+Rice Baby Cream: Bye Bye Dry Spots for Healthy Baby Skin
MANILA, PHILIPPINES – Dry spots rank among the most common and worrisome skin concerns for newborns and infants. These tiny blemishes can feel like monumental challenges– especially for first-time moms– triggering a heightened sense of protectiveness and the desire to provide the best care possible.
For decades, Johnson's Baby has been at the forefront of advancing baby skin and hair care, offering a wide range of products designed to address dryness and redness. Their commitment to creating gentle, safe, and effective solutions for babies' delicate skin has made them the leading baby care brand in the Philippines. Johnson's Baby has consistently provided parents with  innovative and science-backed products to ensure their baby's comfort and well-being. They have continuously refined their formulations, always with the goal of being as gentle as possible, while effectively addressing common skin issues such as dryness, redness, and irritation. Their products are not only dermatologist-tested, but also hypoallergenic, ensuring the utmost care even for newborn baby's skin.
Through their tireless commitment to advancing mother and baby care, Johnson's Baby has not only eased the worries of countless parents, but has also nourished and celebrated the precious bond between parents and their little ones. Johnson's has played an integral role in helping parents navigate the early days of parenthood with confidence, knowing that their trusted products are there to support them in providing care for their babies.
Isabel Lacson-Ruiz, Johnson's Baby franchise lead proudly shares, "Johnson's Baby stands with the millions of moms around the country in keeping their promises of unconditional love by committing to deliver the #HealthyBabySkinPromise. Filipina moms can trust and rely on Johnson's Baby with its range of products that are designed to provide nourishing and protective care for babies' growing skin and hair from their very first bath."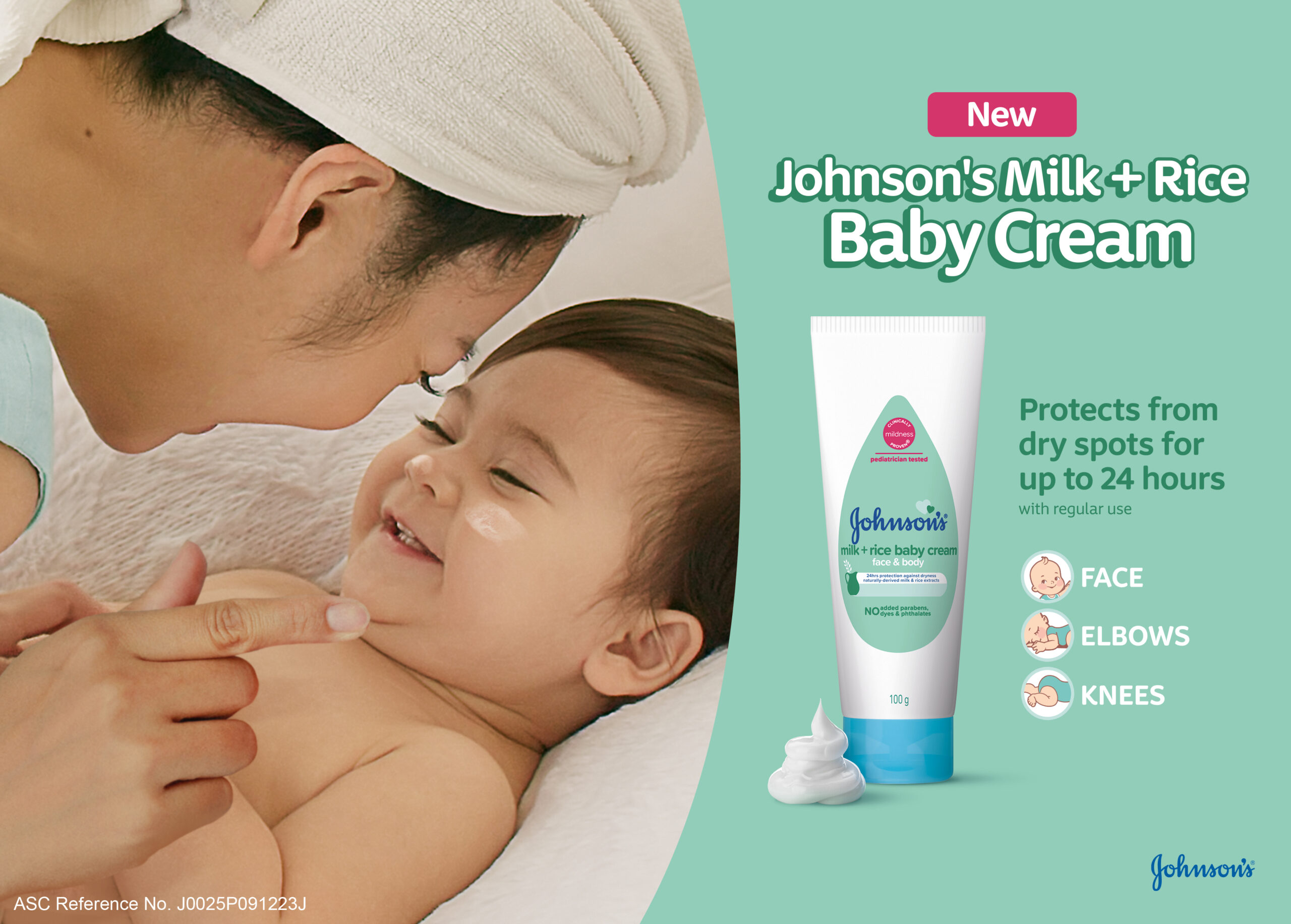 Introducing the new Johnson's Milk + Rice baby cream, protects baby's face, elbows, and knees from dry spots for up to 24 hours with regular use.
In line with Johnson's #HealthyBabySkinPromise, the Johnson's Milk+Rice Baby Cream was recently introduced as the latest addition to the Milk+Rice line, joining other baby essentials, such as bath, lotion, and baby powder. The Johnson's Milk+Rice Baby Cream is made with trusted ingredients, such as milk protein and rice extracts­, and provide intense moisturization and protection against dry spots (face and body) for up to 24 hours with regular use.
Lacson-Ruiz adds, "With the introduction of the new Johnson's Milk+Rice Baby Cream, we are excited to extend the Johnson's Milk+Rice regimen of products that our moms know and love for their babies. You have Johnson's Milk + Rice Bath to gently cleanse and nourish and Lotion to seal in moisture. But while lotion can be used regularly to moisturize baby's skin, there are times when your baby needs further moisturization to prevent dry spots. These usually happen when you baby first learns to crawl or is exposed to friction during playtime. That's why we're excited to introduce Johnson's Milk+Rice Baby Cream. This face and body baby cream is designed to moisturize and protect from dry spots for up to 24 hours. So, when you start seeing signs of dry spots on the face, elbows, and knees, we recommend using Johnson's Milk + Rice Baby Cream after bath time."
Dr. Ayees Mendoza, a board-certified dermatologist, explains the need for a specialized baby cream. "Unlike baby lotions, baby creams are made with a thicker consistency. Baby creams are usually a richer form of moisturizer which makes it suitable for dry to very dry skin and should be applied to baby's skin when needed."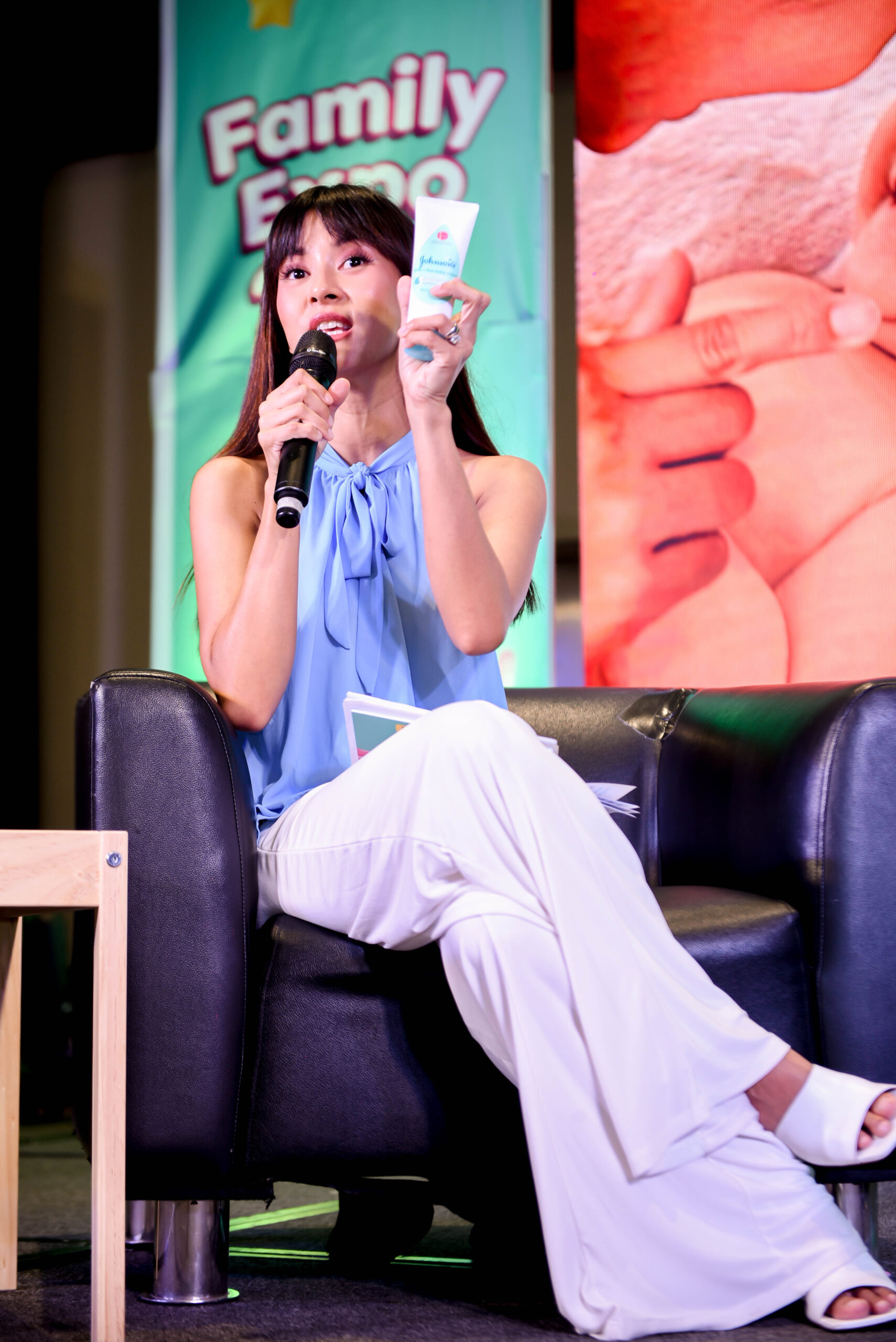 Bianca Gonzalez, Johnson's Baby celebrity mombassador, at the recently held Edamama Family Expo.
With the new Johnson's Milk+Rice Baby Cream, moms need not worry about dry spots and redness on their baby's skin anymore. Celebrity mombassador Bianca Gonzalez shares her delight with the newest Johnson's product. "My kids are at the stage where they're more active with running, climbing, crawling, so their skin really gets dry spots on their knees, ankles, and legs. I've been impressed with how moisturizing the Johnson's Milk+Rice Baby Cream is, and how it can keep my kids' skin free from dry spots the whole day. I definitely recommend this to fellow moms, especially moms of newborns, to add to their list of must-have Johnson's Baby products."
Johnson's Baby continues to be one with moms in providing gentle care for their babies with the #HealthyBabySkinPromise. For more information on how moms can care for their baby's developing skin from first bath, visit the Facebook (https://www.facebook.com/JohnsonsBabyPhilippines), Instagram (instagram.com/johnsonsbabyph), and TikTok (tiktok.com/@johnsonsbabyph) accounts of Johnson's Baby. Johnson's Baby products can be purchased on official company stores via Lazada and Shopee.