Parents, when was the last time you bonded with your kids at home  through active play activities? No, not through watching or videos but online playing as in actively playing, even from the safety of our homes,with activities such as exercising together, building homemade forts, or even patintero and tumbang preso? Bonding through play time among parents and kids can tend to be a rare concept nowadays, but still very much important especially given that families are stuck at home during this lockdown.
Playtime between parents and kids doesn't have to end at fun, it's also a way to keep kids active, exercising and most importantly healthy, both physically and mentally, while stuck at home.
Johnson's we continually advocate for active playtime and bonding moments among parents and their as this also been proven to help keep children healthy overall, specially with regards to their mental health. Johnson's has continously showed this through the yearly Johnson's Baby Playdays campaign. This summer, the best lessons are waiting to be learned and the best part about all of it, is children can learn it together with their parents while at home. With Johnson's, Laro sumasaya kapag ika'y kasama!' says Alde Po (Senior Brand Manager of Johnson's Baby Philippines.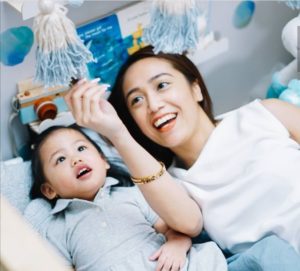 For this year's summer season, Johnson's baby has made it their mission to make bonding moments of parents and kids more fun and enjoyable through playtime, even from the safety of their homes. Johnson's Play Day Laro'y Sumasaya 'pag ika'y Kasama is a call for all parents to get their children to experience the joy of playing together by going back to basics with bonding through active play time, especially now that familie are just stuck at home while at lockdown. It is also important to remember to be there for our kids because this a disfficult time for them as well. It is even recommend by the world health organization for parents to atleast allot 20 minutes of their kids, as part of their daily routine. This in return will also help create structure and bring back that sense of normalcy for children.
During playtime, whether indoors or outdoors, a mom's number one worry for their kids is the sweat it brings and along with the unbearable summer heat and the uncomfortable sticky feeling from playing all-day long. With Johnson's baby powder, there's no need to woory anymore as this helps stay fresh & smelling presko-bango for up to 12 hours, all play long! Even from indoors,mas napapasaya ang playtime with johnson's baby powder making this every mom's ulitimate play time partner allowing their kids to play for longer.
We encourage you to join Johnson's in this movement and see how bonding through playtime will help your little ones become the person you always dreamed them to be.
For more information visit : www.johnsonsbaby.com.ph
Facebook & instagram : johnsonsbabyph
#JohnsonsPreskoBango
#Playdays2020