Arla Organic Powdered Milk Drink is a game changer in the Philippines. they would like to give us moms the confidence and assurance that what they give their kids is truly good, healthy, and nutritious, in all aspects. Organic Milks is one of the finest sources of natural protein for our child's growth and development. Arla organic is 100% European Organic certified and produce only from cows that have been raised according to stringent European organic farming methods.
This means that the cows can roam on lush green fields, fed with organic grass and feed that are free from chemicals fertilizers and their farmer- owners do not use growth hormones/ artificial methods to increase milk production. According to them they always make sure they are well-fed, healthy and comfortable at all time, "shared by Jen Christian Nielsen, Arla Food Seior General Manager in the Philippines.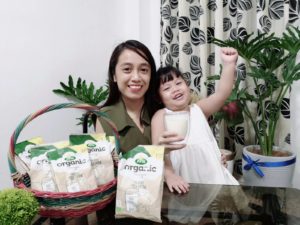 Arla Organic is produced in accordance with strict European union environmental and animal welfare standards. In fact, Arla's carbon emissions are just about only 50% of the global average per liter of milk which is a testament to all the hard work the farmer- owners have been working for sustainability through years.
Arla has always been committed to providing nutritious and more natural choices because they know that good health is the number one priority of every family. " Health issues due to the current global pandemic has increased the consciousness of people on the quality of their food sources. This new reality makes more and more Filipinos on the lookout for the healthier and organic choices. We at Arla Foods are glad to respond to this consumer demand with our presence here," said Mr. Neilsen
PROTEIN is important for the child's growth
Kids nowadays have many forms of entertainments at their disposal and most of the time, these becomes distractions from the much needed sleep of their growing bodies. That's why kids need to drink organic milk to sustain the nutrients on their bodies.
That's why I chose Arla Organic as Sarah's extra source of nutrients aside from eating fruits and vegetables.
Arla is available across all key retailers including All day, Supermarket, Shopwise, SM Hypermarket and many more with a starting price of PHP 50 per liter per pack. The milk product is also readily available online at Lazada, Shopee, Metromart and Cloudmart.ph
Arla Foods
One of the world's leading farmer-owned cooperatives and also known as the world's largest producer of organic dairy products, marks a significant milestone as it expands its footprints in Asia with their entry in our country.
Now, Filipino Families can enjoy the delicious and nutricious taste of Arla Organic Powdered Milk Drink as it hits grocery shelves nationwide.