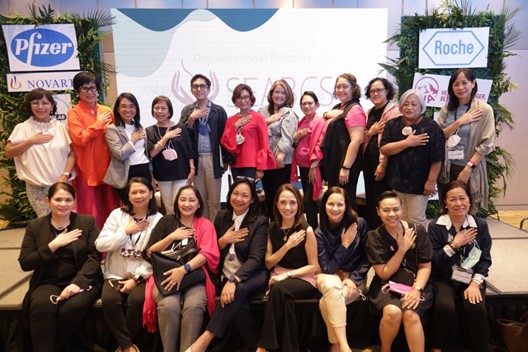 The recently concluded 6th Southeast Asia Breast Cancer Symposium (SEABCS) presented by the ICanServe Foundation held in Manila, Philippines was a whopping success after a 3-day run. The hybrid event pulled 2,000+ members of the community together both in-person and virtually for a highly anticipated conference filled with promising new information, including new research on cancer treatments and updated approaches to advocacy building.
Medical experts, patient group leaders, and advocates from different parts of the globe convened at SEDA Hotel in Bonifacio Global City, Taguig, to galvanize simultaneous movements in the region, all for the benefit of global breast cancer communities. Registrants came from 24 countries to listen to 60 speakers in 26 sessions over three days of learning and solidarity.
"Equity is something I have been really thinking about as I see the presentations and I see what's coming and what's available but it's just not equal. So we got to do more to advocate for that equity, for being included across the whole continuum of cancer care" Carolyn Taylor, Founder and President of the New York-based Global Focus on Cancer, said during her keynote speech.
From science-backed data to inspiring stories of struggle, survival, and triumph, the symposium covered a multitude of topics that could help patients, carers, doctors, healthcare workers, and advocacy partners to close the gaps in  breast cancer treatment and management.
The ICanServe Foundation was the moving force behind this year's conference, and apart from mounting the event, took an extra step towards cancer care by creating a patient manual that tackles all the layers in breast cancer care. Alya Honasan, editor of the manual and breast cancer survivor, shared that the goal of the manual is to give patients a companion throughout their unique journey. The "You Can Do This" Patient Manual is downloadable for free at the ICanServe Foundation website. https://www.icanservefoundation.org/wp-content/uploads/2022/09/ICS-Patients-Manual-FINAL.pdf
Nikoy de Guzman, President of the foundation, ended her speech during the 3-day forum with a quote that struck the room, "I had cancer. But cancer never had me." With tears of hope and the warmest of smiles, the 6th SEABCS closed with a community dance that got everyone on their feet and filled the hall with the spirit of togetherness that the conference aimed to strengthen among its attendees.
This year's hosts thank their partners—the Union for International Cancer Control (UICC), the American Society of Clinical Oncology (ASCO), ABC Global Alliance, Reach to Recovery International, Philippine College of Surgeons, Philippine Society of Breast Surgeons, Philippine Society of Medical Oncology, Philippine Society of Oncologists, Inc, Cancer Coalition Philippines, Suandok Breast Cancer Network, Yayasan Kanker Payudara Indonesia, and Shwe Yaung Hnin Si Cancer Foundation for their generous support in making this event a reality.
SEABCS 2022 was also made possible by Pfizer, Roche, AIA, Novartis, De Guzman Group, Nutriasia, Unilab, Healthway  Cancer Care Hospital, In the Pink and Globe.
The sessions will soon be available on the ICanServe Foundation YouTube page.