Pomegranate is among the most popular, nutritionally rich fruit with unique flavor, taste, and health-promoting qualities.
Fun Facts about Pomegranate
1. The word pomegranate means apple with many seeds.
2. Pomegranates belong to the berry family.
3. Pomegranates are native to the Middle East.
4. It has many great benefits in our body.
5. Pomegranate trees grow in hot and dry climates.
6. Pomegranate trees can live for over 200 years.
As a mom I become more concious on my daily living. When I was in still studying I usually taking coffee to keep me awake late night to finish all the tasks I need right then I had acid reflux so I refrain drinking caffeinated drinks but then my reflux doesn't stop me from drinking coffee. So when I was pregnant and even I gave birth my doctor always advice me to stop drinking caffeinated drinks. So I am looking for a way to alternative drink that will satisfy my cravings. Then I found this! Herbilogy Pomegranate Peel Extract Powder from Vpharma one of my mommy friend recommend this for me to try.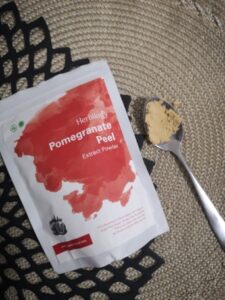 So I found the good healthy benefits of Pomegranate:
Antioxidants
Good source of fiber as well as vitamins A, C, some B vitamins and minerals such as calcium, potassium and iron.
Anti Inflammatory Effects
Reduce the risk of heart disease and lower blood sugar.
It can Improve our memory specially the Elderly ones.
Helps our digestive system bowel movement becomes smooth.
It has great benefits that's why I didn't regret drinking this until now it my habit to drink one or twice a day but if I forgot to drink I still use  and include in my meal I just sprinkle it in my food.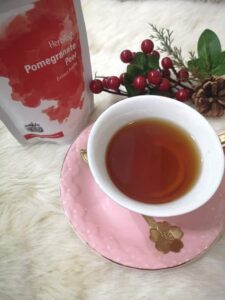 It is is the finest extract powder from Indonesia' finest plant. It is all natural and extract from fresh plant.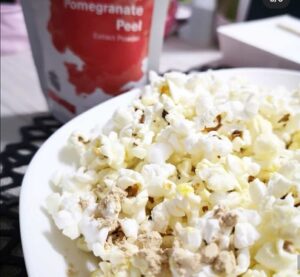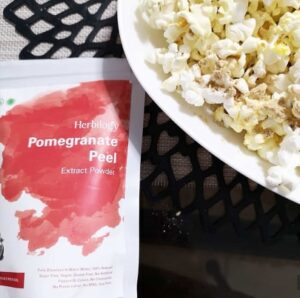 All I can say is "I'm glad I found this!" Healthy drink for all! It is always great feeling drinking healthy like Herbilogy Pomegranate Peel.
You can purchased this online or in Vpharma kiosk.
Use my Discount Promo Code: STEPHANIELOVESVPHARMA
Purchase in the www.vpharma.ph site with a minimum purchase of PHP 2,500
You can buy online Lazada Vpharma Official Store and Physical Kiosk stores.
FOR ORDERS, INQUIRIES, FEEDBACK, YOU MAY CONTACT THEM AT:
MOBILE: +63 915 561 0588
LANDLINE: (02) 370 9460
EMAIL: INFO@VPHARMA.NET