ISOLATED NOT ALONE campaign: an initiative to support women at increased risk and suffering domestic abuse, fueled by self-isolation and pressures of Coronavirus. Amidst the COVID-19 pandemic, domestic violence is surging.
This is the unintended consequence of the isolation measures needed to contain coronavirus – that women and children at risk are trapped at home with their abusers. Frontline women organizations are already seeing a significant increase in domestic violence cases resulting in a greater demand for support services.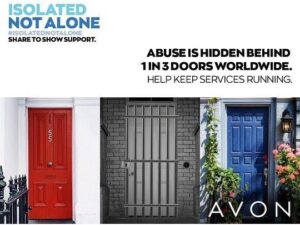 In response to this, the Avon Foundation for Women has pledged $1m to NGOs providing front-line services such as helplines and refuges. Additionally, Avon is launching a communications effort among its 5 million Representatives worldwide and their customers and communities. The campaign will focus on:
• raising awareness of the issue,
• signposting where to go for help and how to identify and support those at risk,
• calling on governments to support the provision of life-saving services, which are in danger of further funding cuts and de-prioritisation.
or more information go to www.avonworldwide.com local website.
*According to Wan Fei, the founder of an anti-domestic violence not-for profit
**https://psa.gov.ph/content/one-four-women-have-ever-experienced-spousal-violence-preliminary-results-2017-national
We need you to spread the word. Show your support for the campaign by sharing the campaign on your social media with the hashtag #isolatednotalone on any social media channel. Should you have any information about anyone who may need support against domestic violence during the enhanced community quarantine, you may reach out to any of the the following Avon NGO Partners:

Luna Legal Resource Center for Women and Children
https://www.facebook.com/lunalegalcenter/
(082) 306-5761
Gender Watch Against Violence and Exploitation (GWAVE)
https://www.facebook.com/GWAVEPhilippines/
(035) 422 84 05 | +63 915 259 3029 | +63 999 576 6679
Women's Care Center Inc. (WCCI)
https://www.facebook.com/wcci.manila/
+63 999 577 9631 | +63 920 967 7852 | +63 917 825 0320 | (02) 514-4104
ING MAKABABAYING AKSYON (IMA) Foundation
https://www.facebook.com/Ing-Makababaying-Aksyon-IMA-Foundation-131515322286/
(045) 3234750
#isolatednotalone
#avonph