I always love the aromatic flavor every time I cook Chicken Curry. It is delicious and flavorful. I like to pour the rich and creamy curry sauce over warm white rice before eating. This is one of the easy to prepare dishes that my family enjoy.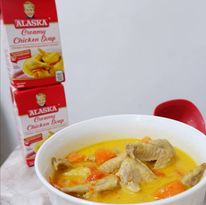 So I made a simple yet creamy Chicken curry. Instead of Gata or coconut milk I use Alaska Creamy Chicken Evap.
Before I like coconut milk in my chicken curry. This is what the Pinoy version uses but when I tried the Alaska Red chicken recipe I made the switched! Both versions taste delicious. It is a matter of preference.
Sharing with you Alaska Red Kitchen Chicken Curry Recipe. ⁣
⁣
Ingredients :⁣
1 tbsp butter⁣
4 tbsps curry powder⁣
4 cloves garlic, chopped⁣
1 pc onion, sliced for sauteing⁣
3/4 kg Bounty fresh Chicken parts⁣
2 tbsps fish sauce⁣
1 pc carrot, sliced in cubes⁣
1 pc medium potato, sliced in cubes⁣
1 cup water⁣
1 pc red bell pepper, sliced in strips⁣
1 pack Alaska Creamy Chicken Evap⁣
Salt and pepper to taste⁣
⁣
How to cook:⁣
1.Marinade chicken in 1 tbsp curry powder and fish sauce. Set Aside.⁣
⁣
2.In a deep skillet, sauté onion and garlic in butter using medium heat. Add in the curry powder and continue sauteing until a sauce is formed.⁣
⁣
3.Add the chicken and cook until slightly brown and all pieces are coated. Pour in the water and simmer for 20 minutes. Add in the carrots, potatoes, and bell peppers. Cook for 20 more minutes.⁣
⁣
4.Lower the heat and pour in the Alaska Creamy Chicken Evap. Lower the heat more and mix until combined. Season with salt and pepper, or according to desired taste. Serve with rice.⁣
⁣
Optional⁣
Add a pinch of chili flakes for an added kick.⁣