L-R: Flash Express Marketing Director Dave Khodr; Flash Express Finance Director Carolyn Cao; Flash Express Brand Ambassador Robi Domingo; Flash Express Head of Legal & Compliance Atty. Sherry Lou Bernabe; Flash Express Reyjim Timoteo and Flash Express PR & Media Relations Manager Reginald Rex Pumihic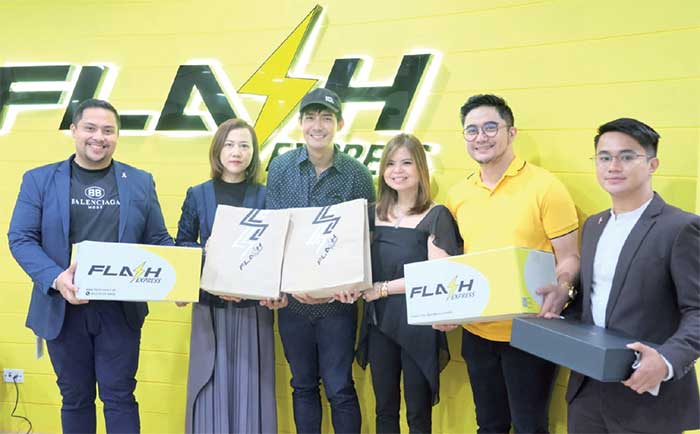 Manila, Philippines – Flash Express, the fastest-growing logistics and courier services company in the Philippines, recently opened its first three (3) Flash Shop stores in Divisoria Mall, 999 Mall and Manila Textile and inaugurated the first batch of branded trucks to be deployed nationwide.
Within just eight (8) months of operation, Flash Express continues to be at the forefront of the logistics industry. Flash Express likewise continues to be the most preferred business logistics partner to date especially that it has realized all its business plans since it was launched here in the Philippines. It successfully kicked-off its business services namely Flash Express, Flash Home, and Flash Shop backed by its acquired world-class logistics requirements and business model ecosystem.
Flash Shop allows customers to send and pick up their parcels at the physical branches inside the malls and business establishments. Flash Express is set to open 112 Flash Shop branches all over the Philippines within the year.
Flash Home is a business offering that aims to help Filipinos to jumpstart their business by partnering with Flash Express or those entrepreneurs who want to utilize their commercial spaces as Flash Express' delivery drop-off points which will only involve minimal investment and requirements.
Just recently, Flash Express inaugurated the first batch of branded trucks to be deployed nationwide to cater for the growing customer base of Flash Express.
Flash Express' customers are expected to experience worry-free delivery transactions given that Flash Express offers free door-to-door pick up, low COD rates, 365 days operations (including holidays and weekends), and 24/7 customer service. 
Flash Express Marketing Director said that Flash Shop will complete the host of delivery services for Flash Express' customers as they can do walk-ins in nearby Flash Shops to send and receive their parcels.
"We are very positive that Flash Shop will further speed up the business logistics experience of all our customers, especially those who are looking for physical branches of Flash Express inside business establishments such as malls and retail stores near them", Khodr said. 
Flash Express' Head of Legal & Compliance, Atty. Sherry Lou Bernabe, said that the company is faring very well in terms of the fulfillment of all its business plans and promises to its customers. In fact, Flash Express continues to double down its efforts in order to be the most trusted business delivery partner and to be a household name in the logistics industry.
"With the combined efforts by our leaders, business partners, and employees, we are delighted to say that Flash Express continues to permeate the logistics industry and to enhance the experience of its customers. Our Filipino customers deserve a world-class courier and logistics services partner and that is what Flash Express is doing since day one", Bernabe said.
Flash Express is still dubbed as the fastest-growing courier and logistics services company in the Philippines to date especially considering the surge in its distribution centers (Flash Express has 368 distribution centers as of this writing), as well as its continuous roll-out of Flash Shops and increasing number of Flash Home partners nationwide.
For more information about Flash Express, you may visit their website at www.flashexpress.ph or contact their customer service at customerservice@flashexpress.ph or (02) 8539 4002.