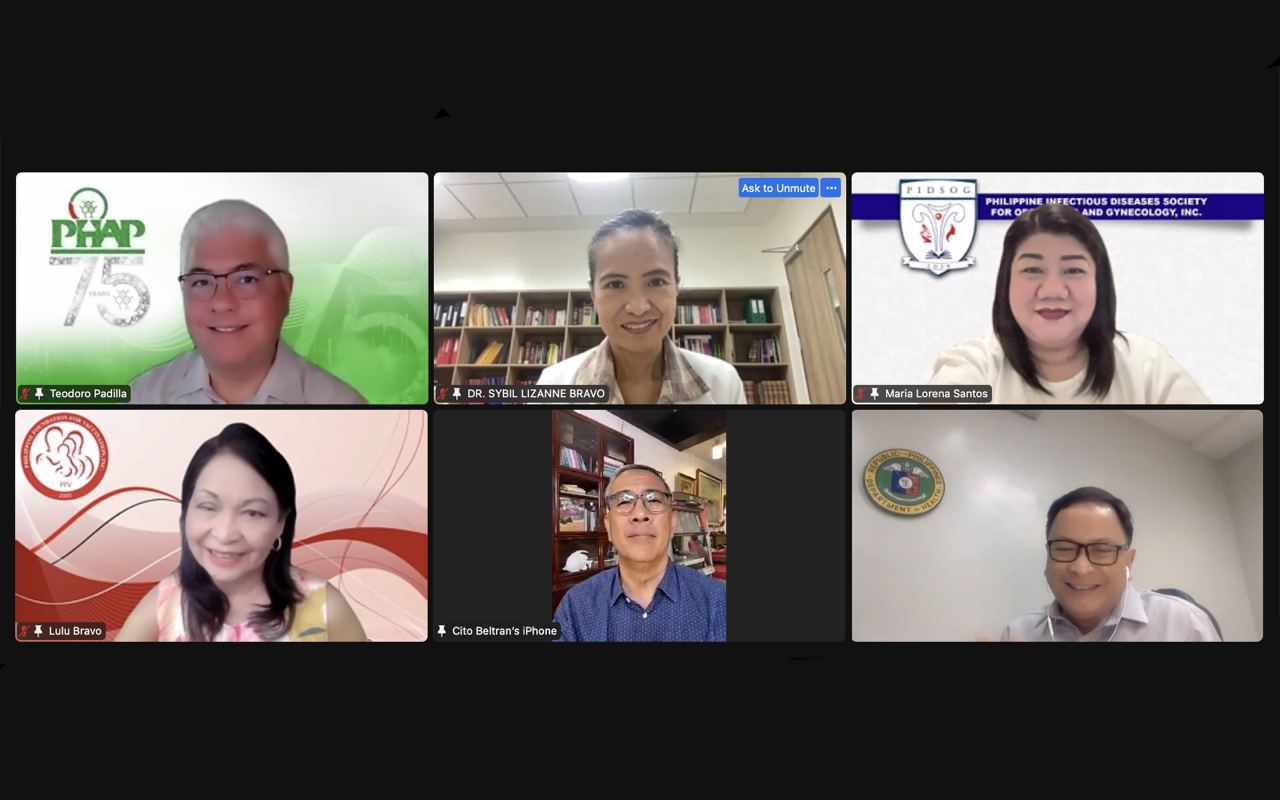 The Department of Health (DOH), Philippine Obstetrical and Gynecological Society (POGS), and the Philippine Infectious Diseases Society for Obstetrics and Gynecology (PIDSOG) came together in an online Health Connect Forum to showcase the collective efforts of various sectors to improve maternal health outcomes in the Philippines.
"There is a critical gap in the global vaccine response to the needs of pregnant women and their offspring," Dr. Maria Lorena Santos, President of PIDSOG shared. In a recent report, United Nations Population Fund (UNFPA) Philippines cited that as many as 6 to 7 women die daily due to pregnancy-related complications and childbirth.[1] Furthermore, UNICEF Philippines also reported that over 60,000 children die yearly before their 5th birthday due to complications from premature birth, intrapartum complications, and infectious diseases.[2]
The Department of Health (DOH) emphasized the importance of monitoring every step of a mother's pregnancy journey, with Dr. Manuel Vallesteros, Chief of the  Child, Adolescent and Maternal Health Division expressed, "Getting good care before, during, and after pregnancy delivery is very important for both the mother and child. Our goal is to reduce the maternal mortality ratio to 70 per 100,000 by 2030 and consequently reduce newborn deaths." Dr. Vallesteros also highlighted two important strategies: maternal health services (including antenatal care, facility based delivery, and postnatal care) and the DOH Health Sector Strategy 2023-2028 to achieve the Sustainable Development Goal commitment for a safer pregnancy and childbirth.
Dr. Sybil Bravo, Committee Head of Immunization for Women of POGS, cited the increased risks among pregnant women. "Across all ages, the leading causes of morbidity among our women are respiratory infections," Dr. Bravo said. "Respiratory viruses, like influenza, may lead to severe complications like heart attack or stroke. Pregnant women with the flu are at increased  risk of late pregnancy loss, preterm birth, and low birth weight among newborns." she noted. POGS recommends both the flu vaccine and Tetanus, diphtheria, acellular pertussis (Tdap) vaccines during pregnancy.
The Philippine Medical Association (PMA) underscored the nationwide goal to reduce maternal mortality, noting RA 11148 to scale up health programs for maternal, neonatal, and child health. "Kung healthy ang ating babies, they will grow up to be healthy as well and that will help our country as well." she stated. The Philippine Foundation for Vaccination also highlighted the importance of vaccination for pregnant mothers. Dr. Lulu Bravo, PFV Executive Director, explained, "We need to empower women, and vaccination empowers women. If they are healthy, then there won't be any economic crises when going to the hospital. So what we need is legislation and health policies to support maternal immunization to improve women's health and protect their rights."
The panel continued to urge legislators to strengthen policies supporting vaccination among pregnant women, noting the importance of updating laws such as the reproductive health act, and passing bills such as HB 5684 or the Act Safeguarding the Health of Filipino Mothers at the Time of their childbirth, and HB 2888 or The Bantay Buntis Act. As Dr. Sybil Bravo noted, "​​Women's health must be a shared agenda for which success requires active engagement by our country's political and health leadership."
The commitment and dedication exhibited by all participating sectors during the Health Connect Forum have set the stage for a brighter future, where every woman can receive the care and support she deserves during and after pregnancy.
Organized by Pharmaceutical and Healthcare Association (PHAP), the Philippine Foundation for Vaccination (PFV), Philippine Medical Association (PMA), and supported by Sanofi Pasteur Inc., the event underscored the importance of the whole-of-society approach in championing maternal health. The media forum, moderated by news anchor Cito Beltran, can be viewed on the Facebook page of PHAP and PMA
[1] UNFPA Philippines. "On Mother's Day, United Nations Population Funds Calls for Gender Equality, Adequate Care." [Online] Available from: https://philippines.unfpa.org/en/news/mothers-day-united-nations-population-fund-calls-gender-equality-adequate-health-care. [Accessed May 26, 2023].
[2] UNICEF. "A Child or Youth Died Once Every 4.4 Seconds in 2021 – UN Report" UNICEF Philippines. https://www.unicef.org/philippines/press-releases/child-or-youth-died-once-every-44-seconds-2021-un-report#:~:text=In%20the%20Philippines%2C%20over%2060%2C000,babies%20are%20stillborn%20every%20year. [Accessed May 29, 2023].