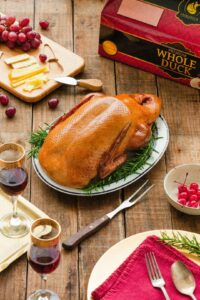 Locally produced, farm fresh and world-class duck ham enters the Philippine market
Capas, Tarlac
: EDL Agritourism Farm Inc. today announced

The Primaduck Premium Peking
Duck Ham
, a new product. The Peking Duck Ham is a perfect holiday ham and offers a new
way for the holiday season buyers to enjoy a unique type of high quality ham, as alternatives to
the usual hams found in the market.
"We are proud to launch a product that is now being revered by top Chinese restaurants in the
country and greatly appreciated by the Federation of Filipino Chinese Chamber of Commerce,"
says Allan B. Casajeros, VP for Operations at EDL Agritourism Farm Inc.
"Surely, every ham
loving person will love the taste, aroma, and texture of this very special Peking duck ham."
Features and benefits of The Primaduck Premium Peking Duck Ham include.

Locally produced and bred in a state-of-the-art SMART facility, in Capas Tarlac

Anti-biotics and hormones FREE
Last November 21, 2019, Primaduck Premium Peking Duck Ham was featured in Umagang Kay Ganda on ABS-CBN (2) at Estancia de Lorenzo, who is responsible for cooking and preparation of the premium ham. It is now being featured in several publications and platforms on both
digital and print. The Primaduck Premium Peking Duck Ham will be available starting December 1, at P1,799. For more information, please visit
h
t
t
p
:
/
/
w
w
w
.
p
e
ki
n
g
d
u
ck.
p
h
/
h
a
m
.
About EDL Agritourism Inc.
: EDL Agritourism Farm, Inc. is a diversified and integrated 33-
heactare farm tourism destination in Capas Tarlac. It offers a total farm tourism experience like no other and houses the Primaduck SMART housing facilities and several farms that produce, livestock, poultry, organic fruits and vegetables